How much stuff can you fit in a JamFactory bag?
Today I'm travelling to London for an overnight stay with Luisa. I'm attending an engagement party this evening so I needed to bring some extra clothes. As we're planning on spending a bit of time wander around London, I couldn't really bring a holdall so I've turned to my trusty JamFactory bag. On the outside it looks like it couldn't really fit a great deal but here's what I've managed to cram in: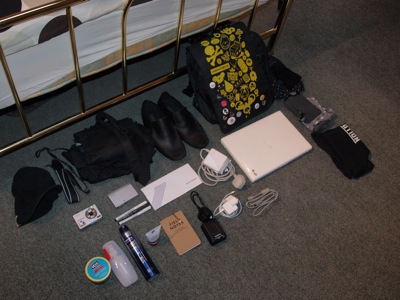 2 pairs of socks
2 pairs of boxers
1 Diggnation t-shirt
1 MacBook
1 MacBook charger
1 pair of shoes
1 shirt
1 pair of trousers
1 jumper
1 tie
1 peaked beanie
1 point and shoot camera
1 card reader
3 pens
1 tub of hair stuff
1 bottle of CK Crave
1 can of body spray
Hand cream
1 DSLR battery charger
1 iPhone charger
1 DSLR USB cable and...
1 DSLR carrying strap
Not bad for a tenner. I'm not sure how many Gavin has in stock, but if you want to find out head over to the JamFactory store.
Now it's back to my film because I've still got an hour and a half left of this train journey.